Why the customer want to make an plunger or actuator  on the top layer of metal dome array?
There are two main functions:
1. Increase the total height of overall product;
2. Increase the touch and click feeling of dome switch.
The height and diameter of the plunger or actuator should be based on the diameter of the tactile dome, and need to make a tooling for plunger making.
But at the same time, we need to pay attention for below issues when making plunger or actuator.
It's better to make the height of plunger or actuator under 1mm, then the defect rate is very low.
If the height of plunger is larger than 1.0mm, the defective rate will be 20% to 30% more than the usual 1mm.
The poor performance is mainly a small bubble inside a, can be seen by visual.
There are also some bubbles around edge, this will cause the plunger to fall off with a gap.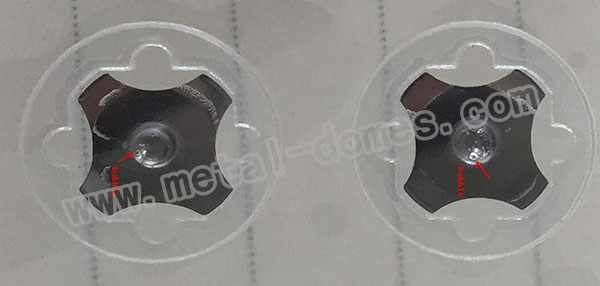 The plunger itself can not be straight, showing a cone, because the plunger plastic molding curing, need to be pulled out of the mold, there will be a drawing Angle. 
The plunger is made on the top layer (MYLAR or dome retainer) and then transferred to spacer, there will be tolerance.
In addition, the assembly of dome switch (metal dome) on PET adheisve also has tolerances, so Plunger and tactile swithch (metal dome) can not be completely concentric.