The click feeling of metal dome is very important for the using of whole product, a good click feeling not only need the metal dome has very good click feeling, but also related with the assembly of whole product, if you find a product with poor click feeling, you might analyze from below aspects:
Click feeling of the metal dome is not good, we can test the metal dome by load curve tester and get the test result for height, force and rebound force, when the height is too low or rebound force is too high, it's easy to cause bad click feeling. For this aspect, we can improve the click feeling by adjusting the height or rebound of the metal dome.
Whether the silicon button which contacted with metal dome is too big? If this silicon botton is too large it will also affect the metal dome's click feeling. For this problem we can improve the click feeling by reduce the diameter of silicon button.
Whether the space between silicon button and PCB board is appropriate? The space too large or too small will both affect the press feeling.
Metal dome assembly deviation. Usually the metal dome was assembled on PCB borad by manual, so there is some deviation, and large deviation will cause bad click feeling. For this problem, we suggest to make assembly by jig and located position to reduce the deviation and improve click feeling.
There is another condition that some clients may put another coverlay on the surface of metal dome after assembly, if the coverlay is too thick then it will affect the click feeling as well.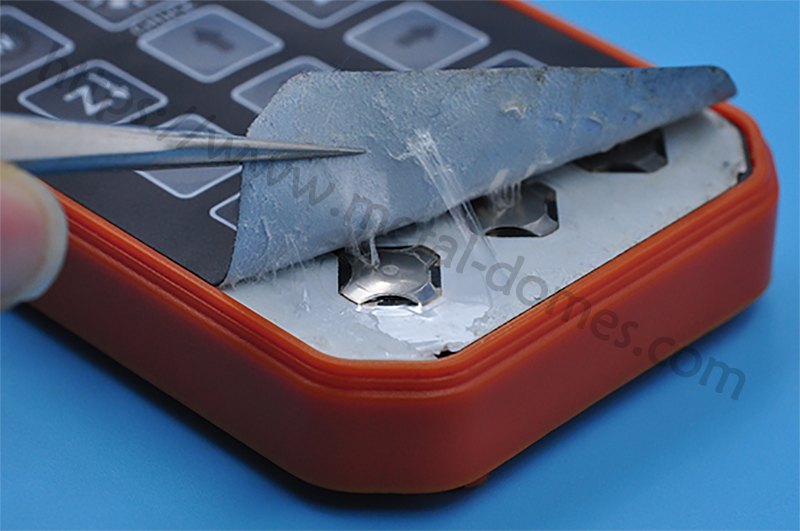 Best Technology, as the top 5 metal dome & dome array manufacturer in China, we have more than 15 years experience in snap dome, metal dome sheet and tactile membrane switch industrial, our metal dome is equivalent with Snaptron & Nicomatic metal dome,we can always provide you the best solution for your dome switch project. If you have any doubt or inquiry about the snap dome please kindly call us or email us at any time.